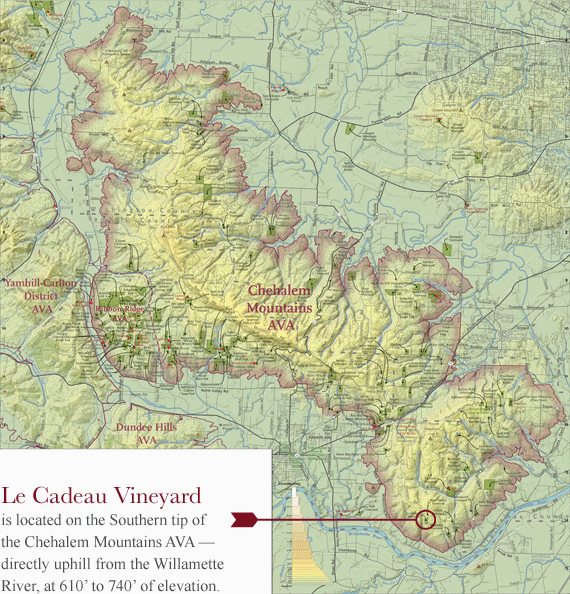 Le Cadeau Vineyard is located on the southern tip of Parrett Mountain near Newberg, Oregon, in the Chehalem Mountains AVA. The 16-acre, high-elevation (610' – 725') vineyard was developed and planted with the singular focus of growing distinct and complex Pinot noir.
We are fortunate to have a site with considerable variation in topography and soils. Careful microfarming provides assorted fruit profiles that allow us to craft a range of unique and exciting wines.
The vineyard has many slope aspects and soil types that result in a range of microclimates. For the most part, the vineyard soil is in the Jory/Nekia/Witzel series, with Witzel (a very shallow, broken basalt) as the predominant type. However, the soil on the east side has considerable organic material resembles a cross between Jory and Willakenzie.
In planting the vineyard, we've attempted to match rootstocks and Pinot noir clones to soils, slope aspect, and microclimate. At this time, fourteen clones of Pinot noir are represented among our plantings, along with five rootstocks. Each Le Cadeau cuveé is made from sections of the vineyard that are comprised of specific soil types, slope aspect, and Pinot noir clones.
Le Cadeau Cuveés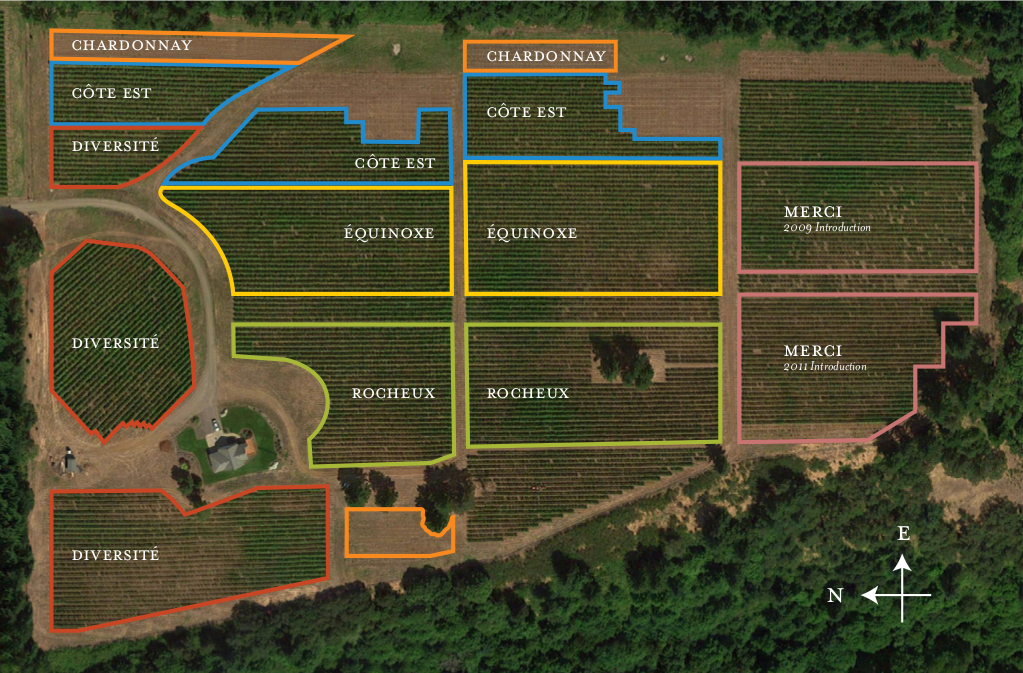 Côte Est Pinot Noir – Produced from fruit grown on the cooler eastern side of the vineyard. These vines are typically picked last.
Rocheux Pinot Noir – From the rocky western side. These stressed vines are typically picked first.
Diversité Pinot Noir – Primarily comes from an assortment of mixed-clone blocks at the northern end of the vineyard and two small parcels at the southern end.
Merci Pinot Noir – From an assortment of new plantings of heirloom clones, including Mt. Eden, Calera, Swan and Jackson.