Visit Our Tasting Room
Our tasting room in Dundee is open by appointment, Wed-Sun.
Appointments start at 11a and will wrap up by 5p.
Email brian@lecadeauvineyard.com to schedule a day & time.
Please include how many are in your party (max of 6) and the best phone number to contact you if needed.
Following county guidelines, we will maintain 25% guest capacity, so space is very limited.


LIMITED SPACE
Capacity is limited, therefore appointments are required.
Your appointment time may overlap with another group, but groups will be seated at an appropriate distance for health & safety.
All tastings will be scheduled for indoors.


HEALTH & SAFETY
Face masks are required inside public buildings in Oregon.
Hand sanitzer is available.
Guests exhibiting symptoms of illness will not be permitted.
Thank you for understanding that everyting is a temporary change from our usual "open door" schedule. We genuinely look forward to seeing everyone again and we hope these new policies can keep our staff and guests happy and healthy in the process.
---
Conveniently located on Highway 99W in Dundee, just 45 minutes from Portland and 30 minutes from our vineyard, our beautifully appointed off-site tasting room is located inside The Dundee hotel, nextdoor to Field + Stream restaurant.
Your visit will either be hosted by Deb Mortimer, co-owner and co-founder of Le Cadeau Vineyard with her husband Tom, or our Assistant General Manager Brian Matta. Brian has been with Le Cadeau for over 10 years and has assisted in the wine cellar for many of those years. Both are extremely knowledgeable in every aspect of our vineyard and winemaking, giving guests a little more than just a simple taste of our wine.
Tasting Flight | $20
Sample a selection of five exquisite Oregon wines. Changes regularly. Tasting fee refunded with purchase of $70 or more.
Amenities:
Friendly and knowledgeable staff
Handicap accessible
Free WiFi
Neighboring restaurant: Field + Stream
Meeting space (currently unavailable under Covid guidelines)

TASTINGS BY APPOINTMENT
Wednesday - Sunday
(closed Mon & Tues)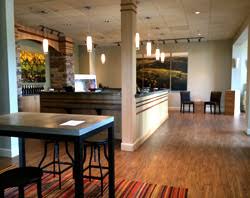 1326 N Hwy 99W, Suite 101
Dundee, OR 97115
503-625-2777