In 1995, Tom Mortimer acquired a small recycling business in Dundee, Oregon. While his day job in the paper and packaging industry continued in Minneapolis, he and his wife, Deb, would make occasional weekend trips to Oregon's Willamette Valley to meet with their Dundee business partner. They soon fell in love with the beauty of Oregon wine country and began to dream the Oregon Dream: living there and owning a premium Pinot noir vineyard.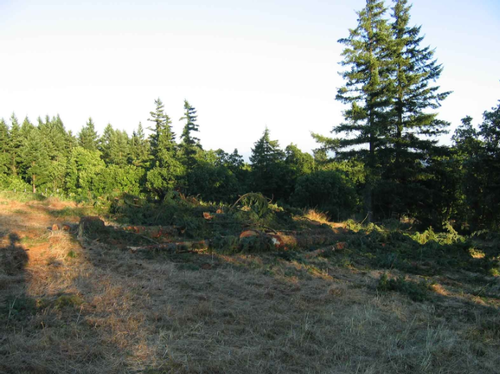 They began looking for Willamette Valley property in 1996 and, a year later, found an uncultivated 28-acre parcel on the south slope of Parrett Mountain just a few miles east of Newberg in the Chehalem Mountains AVA. The property felt right. Nothing grew there other than poison oak, blackberries, and scrub oak. Over-grown brush obscured any sense of the valley below. Not to be deterred, Tom said to Deb, "I think this will make a great vineyard for Pinot noir!"
Her response: "How would you know?"
The Mortimers worked with consultants and borrowed wisdom and insight from a few Oregon winemakers they had befriended. They quickly discovered the site was incredibly rocky. One vineyard adviser commented, "I have no idea how you're going to get posts into the ground!"
After monitoring site temperatures for a month, another consultant gave the climate thumbs-up: the temperatures at the site were consistent with other high-quality Oregon Pinot noir vineyards. Harry Peterson-Nedry (owner and winemaker of Chehalem wines) provided encouragement by saying, "The rocks are very exciting!"
The land had never been cultivated, so it needed to be cleared. The first ten acres of land were cleared during the summer of '97 and eleven additional acres a year later. An incredible view south to Salem and the Eola hills emerged.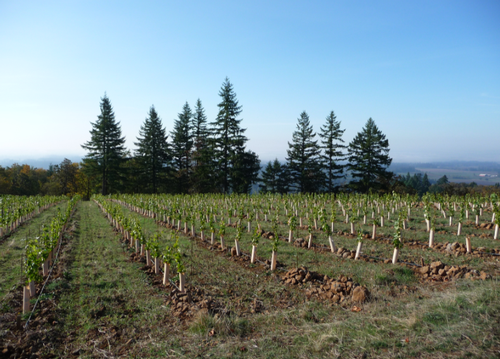 In the spring of 1999, Diane Kenworthy, then the vineyard manager for Oregon Grape Management, planted the first six acres. The initial plantings of Pinot noir included roughly 1.75 acres each of Pommard clone and Dijon clones 667 and 777. In addition, a ¾ acre east-facing parcel was planted as a mixed-clone block consisting of Mariafeld (a Swiss Pinot noir clone), Pommard, and Dijon clones 777, 113, and 115. That section of the vineyard was established as a rootstock test site, planted with different Pinot noir clones on different rootstocks: 3309, 101-14, Riparia Glore, and 4453.
Over dinner one night, Tom asked Diane, "How do you know if you have a good site, or a mediocre site?"
She replied, "Oh, that's easy, just plant it and wait 10 years!"
Which is exactly what the Mortimers did.
The 2002 Le Cadeau Pinot Noir was bottled in January of 2004 and released in June of 2005, eight years and four months after the property was purchased. Confident the vineyard would produce excellent wines, the Mortimers planted an additional 4 acres of Pinot noir that year--Dijon clones 114 and 115--bringing the total vineyard size to 10 acres of grapevines.
Since then, Le Cadeau has continued to add new plant material and increased the number of vines per acre. Plantings now include traditional heritage clones of Pinot noir, some of which debuted in the U.S. in the late 1800's. The warm southwestern part of the vineyard is comprised primarily of certified-Swan Pinot noir clone. This is also known as clone UCD-97 and is likely the first certified-Swan to be planted in Oregon. In addition, Le Cadeau is testing 420A rootstock, a fickle rootstock known for the desirable combination of drought resistance, extremely low vigor, retaining leaves late into the season, and great vine balance.